I was recently troubleshooting a send / receive issue in Outlook 2016 on a client's computer and found myself in what I like to call "no man's land" — this is where I have tried all known fixes for an issue and have to start trial and error. The issue was with an Office 365 account and presented itself during the send / receive operation, throwing error code 0x800ccc0b. I tried all the usual suspects: starting Outlook in safe mode, turning off and on cached Exchange mode, online repair of Office, disabling Anti-Virus, etc. Nothing seemed to work. Googling error code 0x800ccc0b revealed this Microsoft forum post, but alas, I tried all suggestions there to no avail.
After about 45 minutes of frustration, I stumbled upon the fix during one of my trial and error cycles: increasing the server timeout. Here are the steps to resolve it: First, click on the "File" menu in Outlook, then click the "Account Settings" button. Next, select the target account and click the "Change" button. Next click the "More Settings" button on the account settings window. Finally, in the popup dialog, click on the "Advanced" tab, and increase the server timeout to its maximum value (see screenshot below).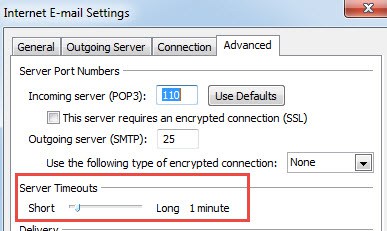 Sometimes it's the simplest things that manage to escape us — this was definitely one of those times for me. I'm just glad I didn't end up doing a complete uninstall / reinstall of Office for no reason (I was about to). I'm guessing the issue is either a temporary error with Office 365 or something wrong with a recent update to Outlook. Either way, I suspect it will be patched soon and when it is, it should be safe to turn the server timeout setting back to something more reasonable. Stay tuned for more tips and tricks from Netris.
Brian Dunham is a Cisco and Microsoft certified network and systems engineer with over a decade of experience in the Information Technology field. When he is not in front of a computer he can be found out in the wilderness canoing, hiking, fishing, or camping.
Contact: brian.dunham@netris.us